Good evening, let's talk a bit today about Jairo Rodriguez. If you've made it this far, it's likely you've heard his name before, however, in case you're unfamiliar with him allow us to give you a quick run down.
Jairo Rodriguez is one of the more active far-right organizers in the Los Angeles area. While most of his protests target the Hollywood area, he's also been observed organizing as far as Anaheim.
How dangerous is this individual? While Jairo doesn't present and physical danger by himself, the crowd he brings with him can be an entirely different story. Wi Spa is a prime example of this.
Jairo organized numerous transphobic Wi Spa actions back in July which ultimately led to 2 people being stabbed and one member of the press being assaulted with a metal rod.
He is deeply involved in the far-right milleau with direct connections to Ethan Schimdt of Phoenix, AZ who spends his time harassing random passerbys for wearing masks – leading to one younger person losing his job.
In response to this, we are going to be releasing the following information: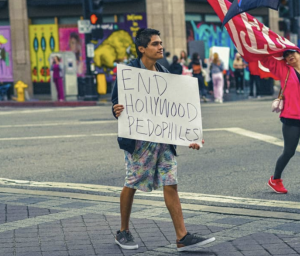 Name: Jairo Rodriguez
Occupation: Unemployed
Affiliations: Anti-Masker Club/RightNowViews
Instagram handles: realjairo_, RightNowViews, right_now_views, _realjairo
Vehicle: None
Address: 5287 Sunset Blvd, Los Angeles, CA 90027